Treasured Girl FLORIDA
Event Information
Join us in celebrating 10 years, a decade of amazing friendships, fun and beautiful times together. We want us to help us sing Happy Birthday to Treasured Girl this year!
Schedule of Events for 2018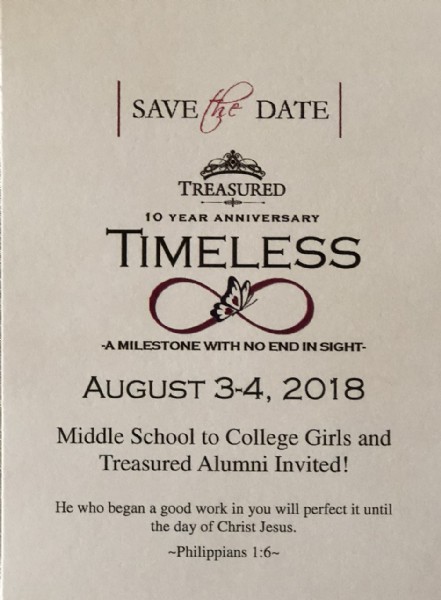 Friday August 3rd
3:00-5:00pm Registration
6:30pm Session 1
9:00pm After Party
Saturday August 4th
9:30 am Session 2
10:30am Session 3
Noon Lunch (provided)
1:00pm Crowning Ceremony
REGISTER NOW
Early Bird Registration $25 until July 6, 2018
General Admission after July 6 will be $30
Door (day of event) $35
TRAVEL INFORMATION
A block of rooms has been reserved for Friday evening August 3rd for the special rate of $87 for a double queen, non-smoking room. Continental Breakfast is FREE! This Special Price is ONLY guaranteed untl July 21, 2018. You are responsible for making your own room reservations for your group. To receive this special rate, mention TREASURED when booking your room.
HAMPTON INN & Suites
4050 Ulmerton Road
Clearwater, FL 33762
727-572-7456
www.hamptoninn.com
Treasured TIMELESS event location
HOPE CHURCH of Largo
7100 142nd Ave. North
Largo, FL 33771
727-531-3891
www.hopelargo.com
Event Location
Hope Church of Largo • 7100 142nd Ave • Largo, FL 33771 • US
Contact Information
Contact: Jeanne Rodgers
Phone: 727-459-7679
E-mail: